The history of the Moore Laboratory of Zoology is as much a Los Angeles story as it is a story of the growth and use of museum collections.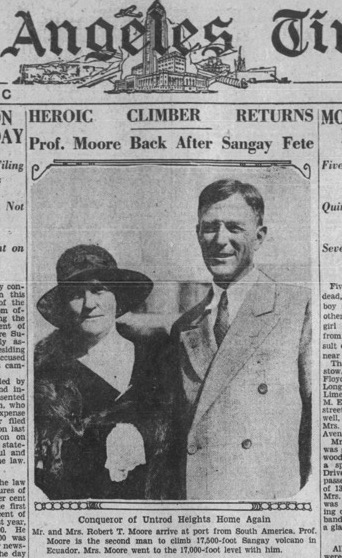 In 1929, the arrival of Robert Thomas Moore (1882-1958) to Los Angeles was splashed across the pages of the Los Angeles Times. Moore, his wife Margaret, and their young daughter Marilynn had just returned from an expedition to Ecuador. There, Moore had scaled two of Ecuador's most fearsome volcanoes, Mount Chimborazo and Mount Sangay, following in the footsteps of renowned explorer Alexander von Humboldt. Tales of derring-do were not all Moore brought back. Packed neatly into boxes were 3,000 bird specimens, which Moore and a family of local collectors, the Olallas, had spent four months acquiring.
The motive for Moore's move to California from Maine was ostensibly business. His Borestone Mountain Company was well known for breeding silver foxes, and the climate of the San Gabriel Mountains was gaining a reputation for providing them ideal conditions. But after he arrived, Moore devoted more of his time to another of his pursuits, ornithology. An affiliate of Caltech, Moore fell in with a burgeoning group of local ornithologists interested in bird taxonomy, including another Caltech affiliate, Donald R. Dickey. Dickey had by that time amassed the largest privately held bird collection in the United States. But when Dickey died suddenly in 1932, and Moore's attempts to take control of his collection were thwarted, Moore decided to build his own collection that would rival and surpass Dickey's.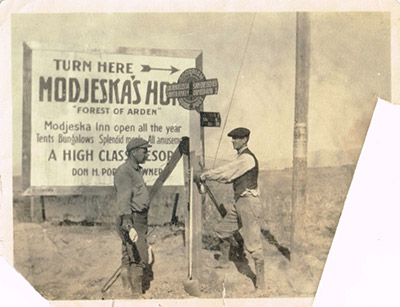 To help him realize this vision, Moore turned to another Angeleno. Chester Converse Lamb (1882-1965) was a fixture in Los Angeles ornithology from his youth. After high school, Lamb earned money as a road marker for the B.F. Goodrich company, collecting birds as he travelled across the West knocking in road signs. Later, he moved to Berkeley along with a cadre of young professionals under the mentorship of the naturalist prodigy Joseph Grinnell, yet another product of Los Angeles who became the first director of the Berkeley Museum of Vertebrate Zoology. Before signing on with Moore, Lamb had finished years of grueling collections for Grinnell across the Baja peninsula, but parted ways with Berkeley on ill terms when he lost an eye in an accident and was denied a disability claim.
The fruits of Moore and Lamb's collaboration were almost immediately apparent. In 1935, Moore trumpeted the discovery of a spectacular new species, the Tufted Jay (Cyanocorax dickeyi), which had somehow evaded Western knowledge despite expeditions that had dissected Mexico for centuries prior.
"From a camp among the pines at an altitude of 5200 ft., near the top of one of the highest mountains in southern Sinaloa, Mr. Chester C. Lamb, one of the most reliable and indefatigable of collectors, secured a Jay which is remarkably different from any of its congeners yet known to science."
In 1951, Moore moved his growing collection from his house in Pasadena to Occidental College, where it became The Moore Laboratory of Zoology. With the world's largest collection of Mexican bird specimens, its legacy continues to reveal itself through scientific research – now focusing on DNA – and public outreach, as well as conservation efforts that directly benefit the very species that make up the collection.
Previous Moore Lab Directors
Robert T. Moore (1951-1958)
Raymond M. Selle, interim (1959-1960)
John W. (Bill) Hardy (1961-1973)
Luis Baptista (1973-1979)
Martin L. Morton, interim (1979-1980)
Walter D. Koenig (1980-1981)
John C. Hafner (1981-2010)
Dan Pondella, interim (2010-2012)
John E. McCormack (2012-present)
Before the remodel in 2018, Curator McCormack recreated the iconic "Moore in the Moore Lab" photo from ca. 1951